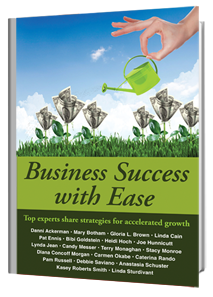 The Basic Steps that Help Grow Your Business with Ease
By Candy Messer B.S. Business Management
As an entrepreneur, you may have started a business for any number of reasons. Perhaps you were laid off and wanted to try owning your own business, maybe you had a hobby you tur ned into products or services you sell, or maybe you see it as freedom to be your own boss. But no matter what the impetus for starting your own company, you may be making some mistakes. Most of these errors can have a material impact on the financial success of your business.
There are a lot of issues to keep in mind when operating your business, and the potential for mistakes is great. My chapter will help entrepreneurs avoid making some common mistakes. Understanding the mistakes that can be made and how to avoid them will help you be a success!
Some mistakes business owners make that I discuss in my chapter are:
Not getting the proper licenses and/or permits
Improperly Calculating Sales Tax
Failure to file required paperwork timely
Mixing Business and Personal Funds
And much more!
"Regulations grow at the same rate as weeds." — Norman Ralph Augustine, American author  
Other successful business owners/co-authors chime in and give advice/thoughts to help be a success in business.  Some of those topics discussed in the rest of the book are:
From the information on Growing the Business AND staying within the Law – SO much to Know!
The 4 Steps to Successful Sales
Feng Shui and Image
How to Do Services on Ebay
All there is to know on Events
The 9 Rules of Customer Service
Intentional Networking and my favorite – Casual Confusion
Why we need the Systems
The Essence of Image –Essence + Image = Magic
If you would like to purchase an Ebook version of Business Success with Ease for $10.00.

If you would like to purchase a Kindle version of Business Success with Ease for $10.00.

If you would like to purchase a hard copy of Business Success with Ease for $15.00 (includes tax and shipping).

For more information, send us a request on our Contact Us page, or call (310) 534-5577