Although COVID-19 us wreaking havoc on the economy, previously passed legislation raising the minimum wage is set to take effect again. If you are operating in the city of Los Angeles or unincorporated areas of Los Angeles County, be prepared to raise wages as of July 1st (other cities within CA also are increasing wages as well.
Keep in mind, the wage increase is not based on where your office location is, but where the employee works. If one works at least two hours in Los Angeles county in a one-week period, they are entitled to the minimum wage for the hours worked. 
These rates are applicable to non-profit organizations as well. To read the FAQs, see https://dcba.lacounty.gov/faqs-english/ or contact (800) 593-8222 for more information.
Are you unsure if your location is in the unincorporated area of Los Angeles? To find out, enter the address at the County Registrar-Recorder's website or call DCBA.
Please note, failing to meet all requirements surrounding the implementation of the wage increase can result in fines. We have listed them below for your convenience, with a brief explanation on how they can be applied.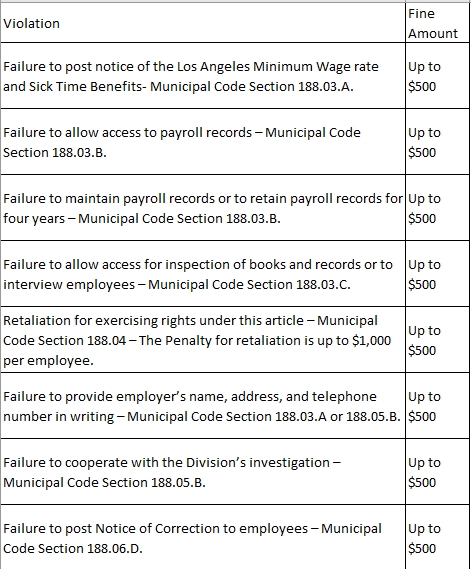 City of Los Angeles Administrative Fines for Violations
Each and every day that a violation exists constitutes a separate and distinct violation. Any administrative fine assessed within a three(3)-year period in any Notice of Correction and determined to be a subsequent violation of the same provision by the same Employer may be increased cumulatively by fifty (50) percent from the maximum administrative fine allowed.
It's imperative that employees working in these areas are paid the proper minimum wage to avoid penalties.
On a side note, the state of Nevada also has a wage increase taking effect. You can find out these rates: https://carsonnow.org/story/06/16/2020/nevada-s-minimum-wage-overtime-rates-increase-beginning-july-1