I found out recently that someone I had enjoyed working with had passed away. I've written a few blogs about her over the years, and this will be the final one.
I met Mrs. P. as I've called her in my prior writings in 2008 when she was referred to me by the in-home care company providing service for her husband. At that time, she was 91 and he was 94 and they needed assistance with bill payments and reconciling their accounts. She was losing her vision and it was becoming too difficult for her to manage the finances.
I began to assist them with this task, and also began to develop a friendship with her. After her husband passed away, we would chat even more after I completed the work since she didn't have too many people coming to see her or call on the phone. I learned about trips they'd taken through the years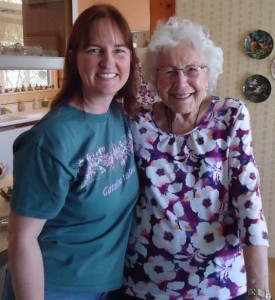 , the loss of both of her children (I can't imagine losing one child let alone both), and about their love of cars.
I'd take her out for frozen yogurt, or to eat at a favorite restaurant. She met my husband and children, and allowed my parents to stay in a room of her home one year when they came to visit. She'd ask how my kids were doing and enjoyed hearing stories of their living abroad in Taiwan.
About two years ago, her CPA called me to let me know the estate attorney wanted everything handled by one person, so since I didn't do taxes, all the bill payments and reconciliations would now be done by her office. When I went for my last scheduled visit to her home, Mrs. P said she was so sorry as she loved having me come by, and I told her I would still visit and I'd send notes once in a while. She was sad I wouldn't be helping her any longer, but I let her know it wasn't a bad thing to have everything handled by one person, and she felt relieved knowing I wasn't upset about the change.
I continued to update her about what was going on in my life through letters, and I would sometimes stop by her home. It was getting more difficult for her as she was also losing her hearing, and she was sad it was so hard to have a conversation. Last Christmas I made a crocheted pot holder/trivet, and she was thrilled to receive this handmade gift.
She was going to turn 100 this year, and I was excited for her to hit such a spectacular milestone, but she passed away 2 1/2 months before her birthday. I was sad to hear she is gone, but I know she was becoming more and more frustrated with her declining hearing and sight. I'm glad I had the relationship with her that I did, and I will always remember her. She wasn't just a client, she was a friend.