In the world of presentations, engaging your audience is crucial. But what if your audience is virtual? David Doerrier shares his strategies for captivating virtual audiences, from maintaining eye contact to interactive activities. Will he crack the code for virtual engagement or leave us hanging in suspense?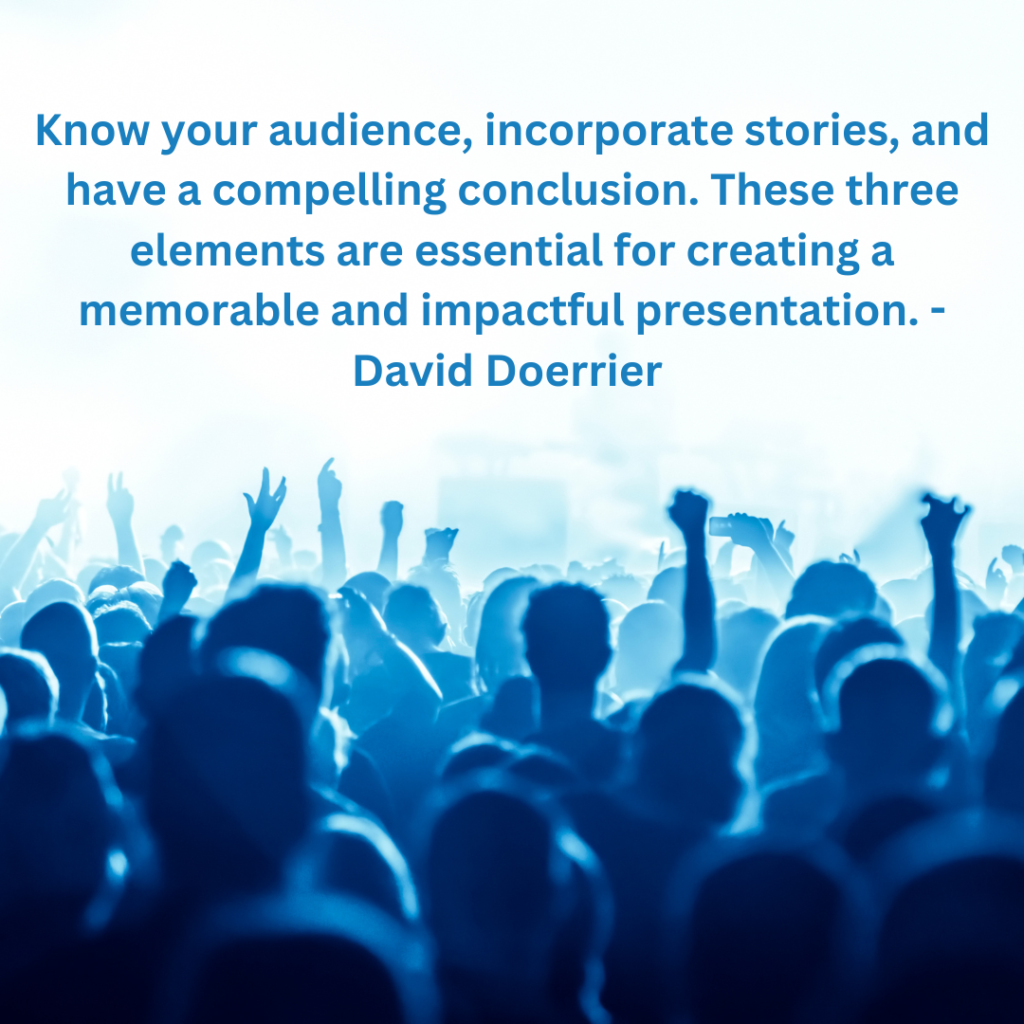 Keynotes:
1. Ascertain the benefits of using captivating visuals and powerful emotional links in your presentations.
2. Acknowledge the dynamic role of kinesthetic elements in amplifying audience engagement levels.
3. Reach an understanding of communication's omnipresence in all types of presentations.
4. Apply effective strategies for retaining maximum audience engagement during your virtual presentations.
5. Grasp the secret to maintaining a healthy balance among engagement methods and keeping distractions at bay in virtual presentations.
The key moments in this episode are:
00:00:00 – The Power of Engagement,
00:02:11 – David Doerrier's Background,
00:07:05 – Adult Learning Theory,
00:09:43 – Different Types of Engagement,
00:11:29 – Common Mistakes and Tips for Presenters,
00:16:03 – Visual Learning and Incorporating Kinesthetic Techniques
00:17:51 – Presenting to Different Audiences
00:19:44 – Engaging Virtual Audiences
00:23:02 – Balancing Audience Engagement and Distraction
00:27:50 – Connecting with David and Special Offer
Links:
https://www.linkedin.com/in/daviddoerrier/
https://cliradio.com/
Offer:
Take advantage of a complimentary 45-minute coaching session focused on enhancing your public speaking skills. Let's dive deep into your workshop concepts, rejuvenate your elevator pitch, refine your training techniques, or help you create a flawless keynote. This session is purely focused on improving your communication skills and there will be no sales pitch. If you're interested in taking your public speaking to the next level, we can discuss additional coaching opportunities during our session. https://calendly.com/pywtsuccess/45-minute-podcast-giveaway
Bio:
David D. Doerrier is a dynamic professional speaker, trainer, and coach with over 25 years of experience in the fields of training and development, leadership, and communication. With a passion for helping individuals and organizations achieve their full potential, David brings a wealth of knowledge and expertise to his presentations. David's engaging style and unique ability to connect with his audience have made him a sought-after speaker at industry conferences, corporate events, and educational institutions across the country. He is known for his ability to simplify complex concepts and deliver actionable insights that empower individuals to take their communication skills to the next level.