Small and medium-sized business owners, are you tired of the chaos and stress that comes with running your business? In this episode, Kerry-Ann Powell, a global business strategist, reveals the key to running a business smoothly without chaos. But just when you think you've found the answer, a shocking twist leaves you wondering – can you really overcome the chaos or are you doomed to be trapped in the never-ending cycle of stress?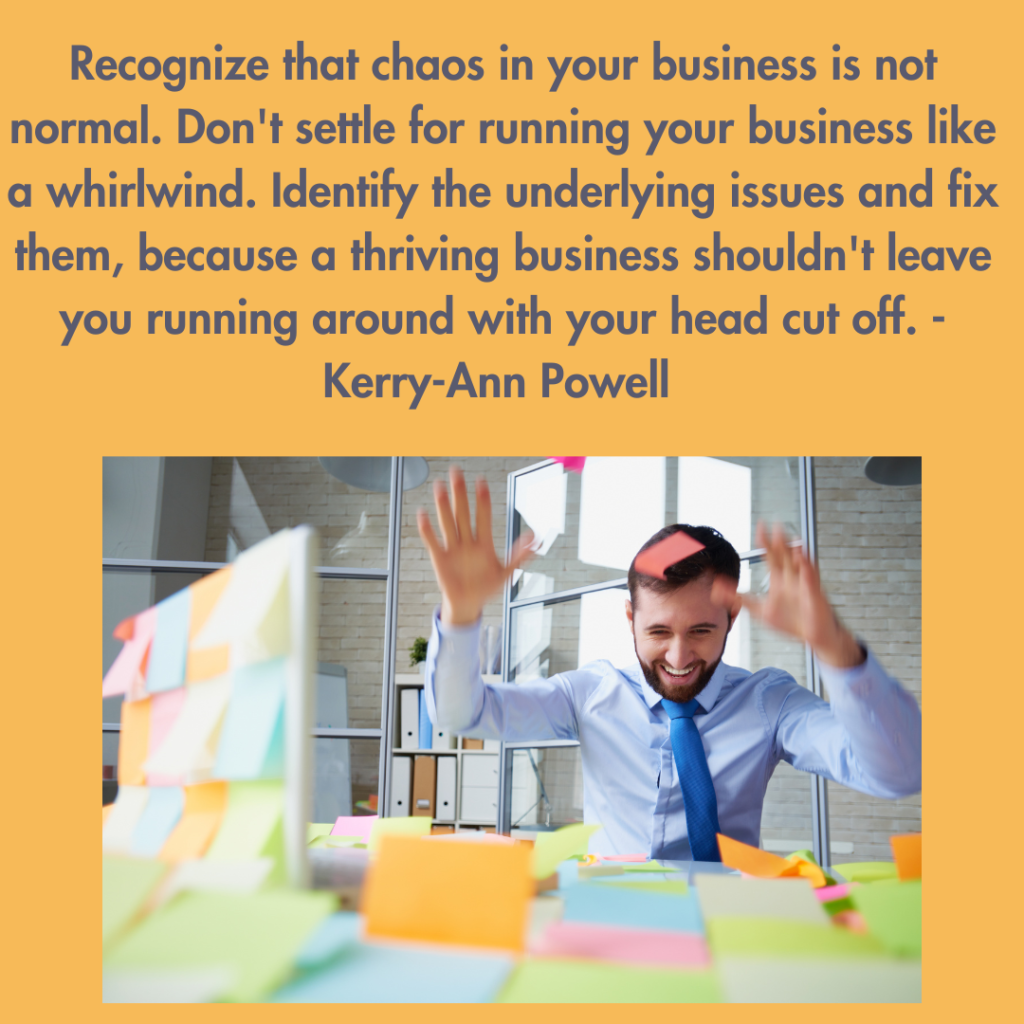 Keynotes:
1. Discover strategies to operate your business smoothly, free from stress and chaos.
2. Learn the art of delegation and scaling for business growth.
3. Understand how to address and solve fundamental business tumults in an effective way.
4. Gain insights on effective leadership and ways to navigate challenges associated with it.
5. Learn how to cultivate an empowering and positive ecosystem in your workplace
The key moments in this episode are:
00:00:00 – Introduction,
00:02:18 – Kerry-Anns Story,
00:06:48 – Identifying Chaos,
00:10:49 – Delegation and Systems,
00:13:45 – The Role of Strategy,
00:15:01 – Running Your Company as is,
00:16:55 – The Importance of Leadership,
00:18:30 – Dealing with Conflict and Toxicity,
00:23:01 – Recognizing and Addressing Poor Behavior,
00:28:48 – The Importance of Openness to New Ideas,
00:30:02 – Creating an Ecosystem of Gifts,
00:30:52 – People Want to Work for Inspired Leaders,
00:31:38 – Identifying and Fixing Business Chaos,
00:32:18 – Connecting and Exchanging Ideas
If you found the information presented in this episode helpful, you may also enjoy listening to:
Design Your Business to Run Itself with Mike Michalowicz https://youtu.be/OOJb-OEQW4U
Links:
https://www.kerryannspeaks.com/
LinkedIn URL https://www.linkedin.com/in/kerry-ann-powell/
Twitter URL https://twitter.com/KerryAnnPowell
FB URL https://www.facebook.com/kerryanntpowell/
Instagram https://www.instagram.com/kerryanntpowell/?hl=en
Youtube https://www.youtube.com/@kerryanntpowell
Offer:
I know that sometimes, running a business can feel like trying to manage a chaotic tornado. This FREE e-book gift is for small and medium-sized business owners who want to scale and grow without drama. https://www.nobusinesschaos.com/?r_done=1 Bio: Kerry-Ann is a global business strategist, speaker, and champion of small and medium-sized businesses. Kerry-Ann's varied experience of over 20 years as a Washington, DC attorney, lobbyist, and fundraiser positions her as an authority on what it takes to strategically succeed while confronting difficult obstacles. After raising $120 million to build the Martin Luther King Jr. memorial she launched her strategic business and consulting firm, Trafalgar Strategies. She and her team advise business owners from various industries and countries on creating strategies, systems, and mindsets to thrive in business and in life. Over the years, Kerry-Ann's expertise and speaking have been sought after by international brands, organizations, and institutions, such as Working Women's Magazine, Dallas Leadership Foundation, CIEE, Association of Fundraising Professionals, Mogul and Philanthropist Russell Simmons' Rush Philanthropic Arts Foundation and more. Kerry-Ann is committed to spreading the gospel that running a small and medium-sized business is vital and important to our economies, yet it doesn't have to feel like trying to manage a chaotic tornado. And business owners can run their businesses smoothly and feel confident that they will thrive. When not speaking, running her business, and working with her clients, Kerry-Ann can be found traveling, practicing her Spanish, and enjoying a good meal with good people.